All about Fringe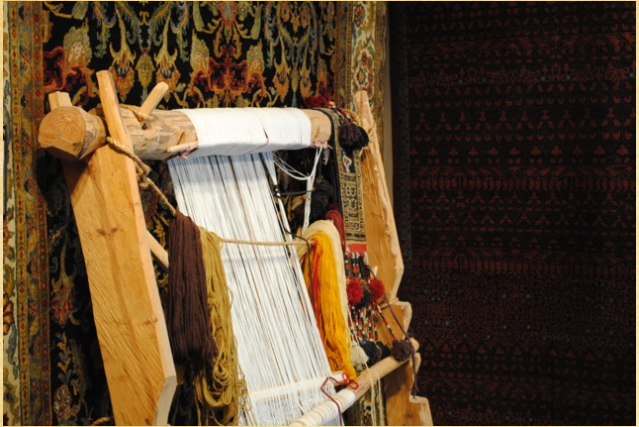 Fringe may bring back memories of bell-bottom jeans and leather jackets, but in all actuality oriental rugs have a very unique and special purpose for the construction and longevity of the rug's structure and quality.
In every rug, the warp and weft strands are woven together to form the foundation of the rug. The warp strands flow length-ways from the "top" of the rug to the "bottom," whereas the weft strands run width-wise from one side of the rug to the other.
Selvedge and Fringe
The tight, rounded edges of a rug are called the selvedges, and they are formed by wrapping the last few weft strands around the edges of the warp strands. The purpose of wrapping the last few strands is to hold the rug together and make sure that the warp strands don't spread out and deteriorate.
Warp strands form fringe on the top and bottom edges of the rug, and the fringe hold the weft strands in place. There are several different types of fringe that weavers can use to secure their rugs.
Tied Fringe
Tied fringe is one of the most popular types of fringe styles, even though it is slightly time consuming. In order to keep the weft strands from unraveling, two or more warp strands are tied together across the entire rug.
The weaver forms a knot with these strands, holding the weft strands in place and adding decoration to the edge of the rug.
Plaited Fringe
Plaited fringe, otherwise known as kelim fringe, resemble braids at the end of the rug. In order to accomplish this style, the weft strands are continued past the edge of the pile, or height of the rug. These extensions are then woven together with the warp strands, to form a short length of kelim, plaited braids, at the end of the rug.
Woven Fringe
Woven fringes are one of the most difficult types of fringes, and this style picks up where the plaited (kelim) fringe style stops. When finished with plaiting fringe, weavers add a thin strip of pile material to the kelim. This thin strip typically flows from the bottom to the top fringe.
The material runs about mid-way between the beginning of the rug body and the end of the fringe.
Although each type of fringe is complicated and time consuming, they all accomplish the same goal of holding the rug together to make sure that the rug you purchase will last a long time.