Loves Me, Loves Me Not
Senior prom.  A backyard garden.  Your daughter's dance recital.  These visions practically conjure up the scent of Spring in the air.  So is it any wonder that flowers thrive within all types of décor – from wallpaper and glass to furniture and, yes, even rugs.
According to industry experts, flowers symbolize paradise.  Floral designs, typically referred to as "palmettes" on oriental carpets, are mainly derived from the lotus or peony.   From the start, weavers constructed these alluring depictions to feel like an explosion of beauty right under your feet.
Even today, floral designs continue to be the most common pattern.  The choice is yours whether to embrace the flower's history…or simply see it as a blooming dose of sunshine.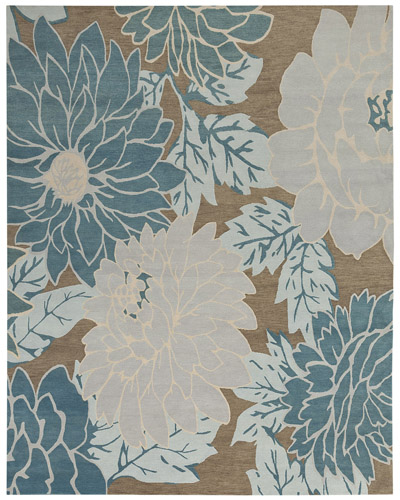 Flower Power
In the beginning, rugs had only simple lines.  These evolved into various geometric shapes and finally to more floral representations.  By the 17th century, master carpet weavers focused on realistic artwork of scrolling vines and flowers, which were composed of hand-spun wool and vegetable dyes.
Medal of Honor
Persian carpets definitely incorporate the medallion in their rug design by either centering or repeating its pattern.  (FYI:  the medallion is supposedly based on the lotus flower, which is culturally important since it blossoms toward heaven.)  The medallion can include diamonds, hexagons, squares and many other shapes.  It also can be composed of many small flowers or just one single flower.
Express Yourself
Specific flowers have special meanings.  The cypress tree symbolizes mourning plus immortality through death.  Palm and coconut trees personify blessing and fulfillment.  The peony represents wealth, and the lotus foretells a great lineage.
Rugs are woven works of art that appeal for a multitude of reasons.  It might be that your rug reminds you of a childhood garden.  Or it could reflect upon your own heritage.  Either way, enjoy the view.
Do the majority of your rugs have flowers (and, if so, do you love them or love them not as much as the others)?  We want to know.