How to Assess the Quality of an Oriental Rug
When it comes to oriental rugs, there's some truth to the old adage "You get what you pay for."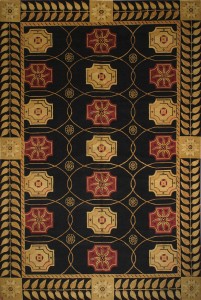 However, you never want to assume that just because a rug costs a lot of money, it's automatically high-quality. There are a few things that go into assessing the quality of an oriental rug.

1. Look at the back of the rug
First of all, this will reveal any damage or repairs that might not be visible from the front. However, just because a rug has been repaired does not mean it's low-quality; it could just be an old rug. The design of the rug should be clearly visible from the back, and it's also easier to see any asymmetry in the design.
2. Assess the fineness of the knotting
The easiest way to do this is by looking at the back on the rug. Think of the knots like an Impressionist painting. The paint strokes are the knots. The closer you can stand to the rug without noticing any individual knots, the finer the knotting is. If the design is clear and symmetrical, and the spacing between the knots is even, then that denotes fine, high-quality knotting.
3. Quality of the dye
The only way to truly test this is through laboratory testing. However, the dyes used today are extremely good. As long as you like the colors, you can pretty safely assume that the colors will only improve with time.
4. Quality of the pile material
For wool rugs, fold or crease the pile. If it does not retain the crease, or if the crease can be easily smoothed out, then quality wool was used. If it's difficult to get the pile flat again, then the wool is of poor quality. For silk rugs, view the rug from different angles. If the colors easily and clearly alter intensity in different lighting, then the silk is good quality. Never fold a silk rug to test the material. They retain creases easily and this can damage the fibers.
5. Make sure the rug lies flat
Lay the rug on a flat surface and view it from different angles to ensure the pile does not have any ridges or indents. Run your hands over the surface to ensure there aren't any irregularities that can't be detected by sight.
As you can see, you need to go through a few steps to determine the quality of an oriental rug. However, these steps are extremely easy and you don't need to be an expert rug collector to follow them. Now, it's time to go forth and find your perfect rug.