About Rug Dating Part 2
We've already covered the major physical attributes that help determine when a rug was made. If you missed that blog post, you can read it here.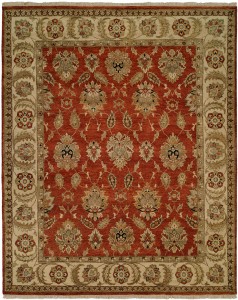 Another way to tell the age of a rug is by checking for a date and/or signature in the pile. Dates are only found some of the time, but when they are there, they're a pretty good indicator of when the rug was made. Sometimes copies of older rugs will have the original date and signature. This is usually just meant to add to the character to the rug and is not an attempt to pass the rug off as older than it is. However, even if the original date was present in an attempt to deceive buyers, the methods outlined in our last rug dating blog post would make it obvious.
When rugs have signatures, it is not an indication that the rug is better or of a higher quality than similar rugs without a signature. But weavers usually don't sign poor quality work, meaning the fact that it's there is a good indication that the rug is good quality.
Reading signatures requires a thorough knowledge of the different languages and dialects used in rug making countries. However, it's really only important to translate the signatures and inscriptions on masterworkshop rugs. In these cases, depending on who the weaver is, the price of the rug can go up dramatically. The possible exception to this is some very old and highly collectible rugs in which the signature can help determine price as well.
Reading dates is much easier than reading signatures because they are normally written in Arabic numbers, or sometimes European numbers. The dates also generally use one of three calendar systems, the most common of which is the Muslim calendar.
The main exception is items made by Christian Armenians who occupied most of the Caucasus, eastern Anatolia, and parts of Persia. These rugs are dated using the Gregorian calendar. The other exception is some very old Caucasian items which are dated using the Julian calendar.
It's important to remember that just because a rug is signed and dated, that does not necessarily mean that it is higher quality than a rug of similar age and style that is not signed or dated.