How To Take Care Of Your Oriental Rug
A high-quality oriental rug is a hefty investment, but if taken care of properly, it can last for years.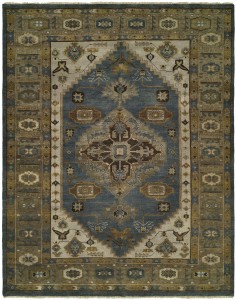 A rug that's been taken care of will not only last longer than one that hasn't, it will also look considerably better. Although wool is an extremely durable rug making material, it is not indestructible. Normal wear and tear, household chemicals, and indoor heating and air conditioning can take a toll. Following these guidelines can help ensure that your oriental rug looks its best.
1. Use the correct underlay
Using the incorrect underlay—or worse, no underlay at all—can damage your oriental rug. When a rug is placed directly on an uncarpeted surface, it gets squeezed between the floor and your feet (or anything you place on top of it) which can damage the wool fibers. The type of underlay you use also depends on the type of surface you are placing your rug on. If you put your oriental rug in a room with wall to wall carpeting, then you can get away with a less durable underlay.
2. Clean your rug regularly
If your oriental rug is very old or is in bad shape, then you should take it to a specialist. But if your rug is in good condition then cleaning it is something you can do yourself. You should use a carpet sweeper or vacuum cleaner with beater bars to clean your rug. Vacuum the back first, which will cause dirt buildup to fall out of the pile. Then, lightly go over the face of the rug. If your vacuum has an especially violent beater (or if you are unsure if your vacuum is safe to use on your oriental rug) then it's best to use a carpet sweeper.
3. Shampoo you rug regularly
Shampooing does not need to be done as regularly as cleaning, but it is still an important step. Not only does it remove dirt that is more ingrained, but it also adds some moisture back into the fabric. Use a good quality wool detergent and apply it gently with a sponge after the rug has been cleaned. Let the rug air dry out in the sun, and then go over it systematically with a hair dryer to ensure it is completely dried. Make sure there are no damp areas in the pile or the foundation. If areas of the rug remain damp it can cause mold and mildew. If your rug is in bad shape, is especially old, or is expensive, it is better to take it to a specialist for shampooing.
4. Remove stains right when they happen
Carefully dab the rug with a wool-compatible cleaning solution (or silk-compatible if that is what your oriental rug is made of) that is made specifically for removing whatever substance has been spilled. Continue dabbing until as much of the discoloration has been removed as possible. Then carefully dry the area. Do not scrub the area as that can damage the rug. Again: if you rug is old or in bad shape consult a specialist. Or, if you find that you cannot remove the stain, consult a specialist.
5. Let a specialist do the repairs
While some very minor issues can be repaired at home, such as fringes that become partially detached, any damages to the foundation or pile should only be fixed by a professional.
Not only does a clean rug look better, it also helps avoid any damages from bugs. An oriental rug can add life and character to any room. Following these guidelines can help ensure that your rug looks pristine for years to come.